Mt Kitchener 1786m
- - - - - - - - - - - - - - - - - - - - - - - - - - - - - - - - - - -
Site Updated, Februar 2022
Kitchener B.C. Community event Pictures only on Page
4, 5 and 6
1. Picture
1. Photography is more than a hobby for me. In this album I've assembled some of my photographs from around Kitchener BC.

2. Fotografieren ist mein Steckenpferd. In diesen Album sehen Sie Bilder aus der Umgebung von Kitchener BC.
1. Kitchener Valley

Kitchener and the Valley; Population 300+/-. Elevation; Kitchener Town 744m, Valley 753m on GO Marker, (Creston Airport 628m).

What's the Weather like in the Valley? Normal for a Mountain area, in Summer Sunshine and warm, in Winter Snow. Winter Temperature; January at nighttime 0 C to -16 C, daytime at noon -5 C to +5 C. No Hurricanes, no Avalnches.

Where is the Kitchener Valley? Latitude N49°09'43" Longitude W116°19'08". The Highway #3 from Cranbrook to Creston goes right through the Valley.

Piece of Land: 1 square Meter roughly Can. $5 +/-. Next Town, Business and Hospital 17Km, Creston Airport 24Km.

Boredom days? Never; bathing in Meadow Creek deep spots, hiking, horseback riding or fishing for small trout. in Winter; cross-country skiing, snow-mobiling, snow-shoeing, Elk watching, hunting.

In the garden; everything up to beans, cucumbers, tomatoes, apples, berrys, some cherries and grapes. Outside the fence; blueberrys, saskatoons, wildcherrys and mushroom.



2. Das Kitchener Tal: Einwohnerzahl 300+/-. Kitchener Ort ue.d.M. 744m, das Tal 753m am Messpunkt. (Creston Airport 628m).

Wo liegt das Kitchener Tal; Am 49 Breitengrad, N49°09'43" Laengengrad W116°19'08". Die Highway #3 von Cranbrook nach Creston geht mitten durch.

Ein Stueck Land; 1 Quadratmeter kosted 5.00 Can.Dollar+/-. Zum naechsten Ort zu den Geschaeften sind es 17 Km. Creston Airport 24 Km.

Langeweile? Nie; baden in den tiefen Stellen im Meadow Creek, wandern, reiten, oder fischen nach Forellen. Im Winter; Motorschlitten, Schilanglauf, Schneeschuhlaufen, Hirsche beobachten, jagen.

Im Garten; alles bis hin zu Bohnen, Gurken, Tomaten, Aepfel, Beeren, Kirschen, Weintrauben. In der Natur; Blaubeeren, Saskatoons, Wildkirschen und Pilze.
http://www.pdfzilla.com/
1. The Photo Pages contain more picture and less text.
2. Auf den Fotoseiten finden Sie mehr Bilder und weniger Text.

Thank you for visiting this album.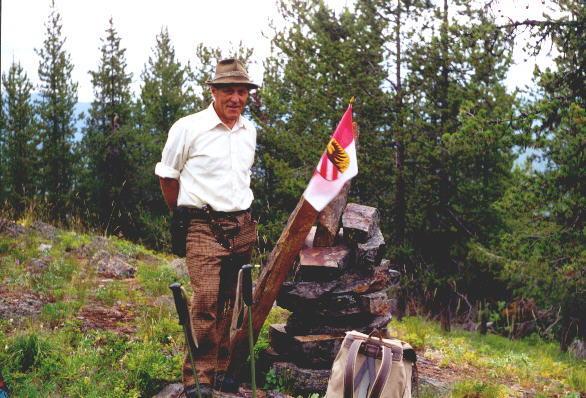 1. On Top
2. Ganz oben
Mt Kitchener 1786m.


* * *